« Back to Main Page
All-Star Comics #4 -- Beautiful CGC 6.5 copy -- very slight restoration noted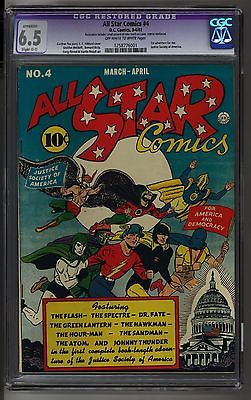 [CLICK ON IMAGE TO ENLARGE]
Auction End date
26 Dec 2016
Seller Location
Covina, California
---
Item Description
6.5 copy cgc #1258776001. Beautiful copy, white to off white (cream) page quality, great cover colors. First Justice League adventure.
Fresh case in perfect unmarked condition. Slabbed just recently. CGC saw some minor color touch (where it is I cannot say) and interior reinforcement ---note that there is no cover reinforcement. This got the lowest restored comment you can get: Slight or c-1. Minor adhesive. They noted color touch on the cover (if its anywhere, it's near the flag in blue), but that's not the case as all copies have that and there is no bleed through anywhere. I'm sending this to another grading house if it doesn't sell by the fall)
This is a solid and beautifully manufactured book and is far better looking than the badly cut 7.5 copy Metropolis had recently at a slightly higher price.
I accept returns from stateside buyers for any CGC book if and only if the case is cracked during transport. I ship within a day and usually it arrives within 2-3 days stateside.
Shipping flat rate medium box to US buyers is Free! Please email me if you desire extras before I ship.
Overseas, this will takes about 3 weeks to get to you, except Canada about a week. I must reveal a price you paid to Customs.
My rating is 100% due to good customer service.
Looking for more keys. Check out my other books. I grade the unslabbed comics the way they do.